Remember the good ole days when you would get a mystery prize in your cereal box? We want to bring that feeling of excitement back for our customer with the
Bully Dog
Surprise Inside
! You already enjoy finding a simple sticker when you have a package delivered, now imagine getting a $1,000 VISA gift card. Starting mid November, when you purchase a Bully Dog tuner you can find your surprise inside. All
Bully Dog
devices including the
BDX
,
GTX
,
GTX Watchdog
,
GT Gas
, and
GT Diesel
. No matter which device your truck requires, you still have a chance to be a winner!
WHATS INSIDE THE BOX?
What are you looking for and how do you know if you are a winner? After you purchase your device and open the box you will want to be on the look out for a round ticker that looks like the sample below. The ticket will clearly state what you have won so you will immediately know what you won.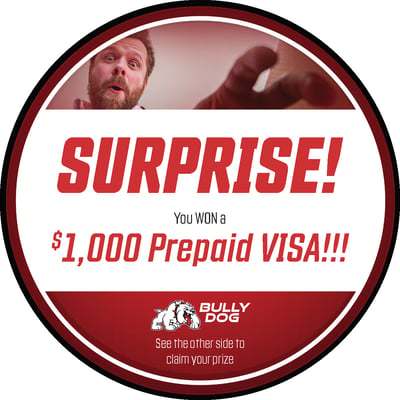 Sample Ticket


HOW TO REDEEM THE TICKET?
When you find a winning ticket, it only takes a few moments to redeem it for your prize. First, turn the winning ticket over to locate the prize code. After you have found the prize code you will click the button below to fill out the form and enter the prize code. Once you have done that then you just wait for your prize to come in the mail
.
WHAT ARE THE PRIZES?
The prizes that you can win range from something small to some large ones that you do not want to miss! There is a certain number of each prize with smaller prizes having the highest number of winners. See below for the full list of prizes and number of prizes. The list will continually be updated so that you can see what prizes are still out there on shelves.
Surprise Inside Prize Breakdown:
$1,000 Visa Prepaid Gift Card

($1,000 Value)

-

7

/ 10 Tickets Available

$500 Visa Prepaid Gift Card

($500 Value)

-

12

/ 15 Tickets Available

Accessory Mount

($25-$40 Value)

-

72

/ 75 Tickets Available

T-Shirt

($25 Value)

-

238

/ 250 Tickets Available

Hat

($20 Value)

-

242

/ 250 Tickets Available

Die-cast Collectible Car

($10 Value)

-

293

/ 300 Tickets Available

Garage Sign

($12 Value)

-

490

/ 500 Tickets Available

Swag Bag

($40 Value)

-

98

/ 100 Tickets Available
15% Off Discount Code for Bully Dog Devices or Merchandise

WE WANT TO SEE WHO WINS!
After you find a winning ticket and redeem it, be sure to post on Instagram and Facebook to share the excitement. You can tag @bullydogtech on Instagram and Bully Dog on Facebook. Be sure to use our hashtag, #bullydogtech

, in your post

!
DIDN'T FIND A TICKET?
Did you purchase a new SCT tuner and opened the box to find out there wasn't a ticket inside?Unfortunately there may be older stock on dealers' shelves that may not have a ticket but we want to make sure you have the opportunity to win something. To receive a ticket, please send an email to marketing@derivesystems.com. Be sure to include your name and mailing address so that we can mail your ticket to you.